Few things make us happier than helping kids fall in love with reading—whether it's watching a toddler learn to sound out words on their own or a kid finding the book that makes them feel seen, we love it all. But did you know that, along with vocabulary and general literacy, reading fiction can also teach kids empathy and emotional intelligence?
According to an article in The Guardian, titled Lost for words? How reading can teach children empathy, "Researchers at Emory University in Atlanta, US, say that fiction tricks our brains into thinking we are part of the story. The empathy we feel for characters wires our brains to have the same sensitivity towards real people. Carnegie Mellon University studies discovered that when you get lost in a book your brain lives through the characters at a neurological level."
Empathy is an important life and social skill, and one that we here in the YS department would like to highlight as October is National Bullying Prevention Month. Listed below are fiction picture books and middle grade novels that we'd like to highlight in our collection.
Picture Books
Adrian Simcox Does NOT Have a Horse by Marcy Campbell and Corinna Luyken
Adrian Simcox tells anyone who will listen that he has a horse–the best and most beautiful horse anywhere.
But Chloe does NOT believe him. Adrian Simcox lives in a tiny house. Where would he keep a horse? He has holes in his shoes. How would he pay for a horse?
The more Adrian talks about his horse, the angrier Chloe gets. But when she calls him out at school and even complains about him to her mom, Chloe doesn't get the vindication she craves. She gets something far more important.
Written with tenderness and poignancy and gorgeously illustrated, this book will show readers that kindness is always rewarding, understanding is sweeter than judgment, and friendship is the best gift one can give.
Each Kindness by Jacqueline Woodson and E.B. Lewis
Chloe and her friends won't play with the new girl, Maya. Every time Maya tries to join Chloe and her friends, they reject her. Eventually Maya stops coming to school. When Chloe's teacher gives a lesson about how even small acts of kindness can change the world, Chloe is stung by the lost opportunity for friendship, and thinks about how much better it could have been if she'd shown a little kindness toward Maya.
Iced Out by CK Smouha and Isabella Bunnell
Wilfred Walrus and Neville Narwhal are the only kids in Miss Blubber's class who are not seals. Life is tough being the odd ones out – lunchtimes and football matches and school photos all present challenges to the two outliers. And they don't even like each other very much! When Betty Beluga joins the class, everything changes. Betty is smart and independent and amazing at football. As a friendship forms, Betty helps the two boys to recognise that being different isn't always a bad thing! A warm, funny tale about friendship and fitting in that school-aged children are sure to identify with.
Insults aren't funny : what to do about verbal bullying by Melissa Higgins and Simone Shin
Casey the rabbit loves to play goalie on the soccer team. But when Casey fails to block a goal, Dana the squirrel starts calling Casey hurtful names. Young readers watch Casey struggle with bullying and learn safe ways to make it stop. Sensitive illustrations of gender-neutral animal characters help all children relate to the issue of verbal bullying.
Milo Imagines the World by Matt de la Peña and Christian Robinson
Milo is on a long subway ride with his older sister. To pass the time, he studies the faces around him and makes pictures of their lives. There's the whiskered man with the crossword puzzle; Milo imagines him playing solitaire in a cluttered apartment full of pets. There's the wedding-dressed woman with a little dog peeking out of her handbag; Milo imagines her in a grand cathedral ceremony. And then there's the boy in the suit with the bright white sneakers; Milo imagines him arriving home to a castle with a drawbridge and a butler. But when the boy in the suit gets off on the same stop as Milo–walking the same path, going to the exact same place–Milo realizes that you can't really know anyone just by looking at them.
Pushing isn't funny : what to do about physical bullying by Melissa Higgins and Simone Shin
Bailey is a raccoon who loves math and the superhero Mighty Raccoon. But Bailey is getting physically bullied by Kim, a dog at school. Young readers watch Bailey struggle with bullying and learn safe ways to make it stop. Sensitive illustrations of gender-neutral animal characters help all children relate to the issue of physical bullying.
Sulwe by Lupita Nyong'o and Vashti Harrison
When five-year-old Sulwe's classmates make fun of her dark skin, she tries lightening herself to no avail, but her encounter with a shooting star helps her understand there is beauty in every shade.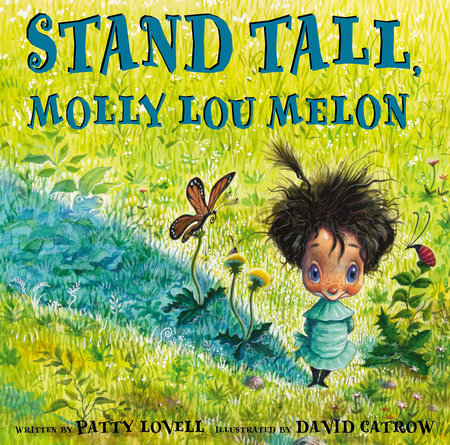 Stand Tall, Molly Lou Melon by Patty Lovell and David Catrow
Even when the class bully at her new school makes fun of her, Molly remembers what her grandmother told her and feels good about herself.
Teasing isn't funny : what to do about emotional bullying by Melissa Higgins and Simone Shin
Jesse and the other animals at the bus stop make fun of Kelly's fluffy fur and plain clothes. The constant teasing makes Kelly the cat feel sad. Young readers watch Kelly struggle with the teasing and learn safe ways to make it stop. Sensitive illustrations of gender-neutral animal characters help all children relate to the issue of emotional bullying.
Middle Grade
Dress Coded by Carrie Firestone
Molly Frost is FED UP because Olivia was yelled at for wearing a tank top. Because Liza got dress coded and Molly didn't, even though they were wearing the exact same outfit. Because when Jessica was pulled over by the principal and missed a math quiz, her teacher gave her a F. Because it's impossible to find shorts that are longer than her fingertips. Because girls' bodies are not a distraction. Because middle school is hard enough. And so Molly starts a podcast where girls can tell their stories, and before long, her small rebellion swells into a revolution. Because now the girls are standing up for what's right, and they're not backing down.
Fish in a Tree by Lynda Mullaly Hunt
Ally has been smart enough to fool a lot of smart people. Every time she lands in a new school, she is able to hide her inability to read by creating clever yet disruptive distractions. She is afraid to ask for help; after all, how can you cure dumb? However, her newest teacher Mr. Daniels sees the bright, creative kid underneath the trouble maker. With his help, Ally learns not to be so hard on herself and that dyslexia is nothing to be ashamed of. As her confidence grows, Ally feels free to be herself and the world starts opening up with possibilities. She discovers that there's a lot more to her — and to everyone — than a label, and that great minds don't always think alike.
Flight of the Puffin by Ann Braden
Libby comes from a long line of bullies. She wants to be different, but sometimes that doesn't work out. To bolster herself, she makes a card with the message You are amazing . That card sets off a chain reaction that ends up making a difference in the lives of some kids who could also use a boost-be it from dealing with bullies, unaccepting families, or the hole that grief leaves. Receiving an encouraging message helps each kid summon up the thing they need most, whether it's bravery, empathy, or understanding. Because it helps them realize they matter-and that they're not flying solo anymore.
It Ain't So Awful, Falafel by Firoozeh Dumas
Zomorod (Cindy) Yousefzadeh is the new kid on the block . . . for the fourth time. California's Newport Beach is her family's latest perch, and she's determined to shuck her brainy loner persona and start afresh with a new Brady Bunch name–Cindy. It's the late 1970s, and fitting in becomes more difficult as Iran makes U.S. headlines with protests, revolution, and finally the taking of American hostages. Even mood rings and puka shell necklaces can't distract Cindy from the anti-Iran sentiments that creep way too close to home. A poignant yet lighthearted middle grade debut from the author of the best-selling Funny in Farsi.
Planet Omar: Accidental Trouble Magnet by Zanib Mian and Nasaya Mafaridik
Omar and his family have just moved, and he is NOT excited about starting at a new school. What if the work is too hard or the kids are mean or the teacher is a zombie alien?!
But when Omar makes a new best friend, things start looking up. That is, until a Big Mean Bully named Daniel makes every day a nightmare! Daniel even tells Omar that all Muslims are going to be kicked out of the country . . . Could that possibly be true?
Luckily, Omar's enormous imagination and goofy family help him get through life's ups and downs.
Starfish by Lisa Fipps
Ever since Ellie wore a whale swimsuit and made a big splash at her fifth birthday party, she's been bullied about her weight. To cope, she tries to live by the Fat Girl Rules-like "no making waves," "avoid eating in public," and "don't move so fast that your body jiggles." And she's found her safe space-her swimming pool-where she feels weightless in a fat-obsessed world. In the water, she can stretch herself out like a starfish and take up all the room she wants. It's also where she can get away from her pushy mom, who thinks criticizing Ellie's weight will motivate her to diet. Fortunately, Ellie has allies in her dad, her therapist, and her new neighbor, Catalina, who loves Ellie for who she is. With this support buoying her, Ellie might finally be able to cast aside the Fat Girl Rules and starfish in real life–by unapologetically being her own fabulous self.
The Anti-Book by Raphael Simon
Mickey is angry all the time – at his divorced parents, at his sister, and at his two new stepmoms, both named Charlie. And so he can't resist the ad inside his pack of gum- "Do you ever wish everyone would go away? Buy The Anti-Book ! Satisfaction guaranteed." He orders the book, but when it arrives, it's blank-except for one line of instruction- To erase it, write it . He fills the pages with all the things and people he dislikes . . .
Next thing he knows, he's wandering an anti-world, one in which everything and everyone familiar is gone. Or are they? His sister soon reappears–but she's only four inches tall. A tiny talking house with wings looks strangely familiar, as does the mysterious half-invisible boy who seems to think that he and Mickey are best buds. The boy persuades Mickey to go find the Bubble Gum King-the king, who resides at the top of a mountain, is the only one who might be able to help Mickey fix the mess he's made.
The Many Meanings of Meilan by Andrea Wang
A family feud before the start of seventh grade propels Meilan from Boston's Chinatown to rural Ohio, where she must tap into her inner strength and sense of justice to make a new place for herself in this resonant debut.
The Many Meanings of Meilan , written in stunning prose by Andrea Wang, is an exploration of all the things it's possible to grieve, the injustices large and small that make us rage, and the peace that's unlocked when we learn to find home within ourselves.
What Lane? By Torrey Maldonado
"STAY IN YOUR LANE." Stephen doesn't want to hear that–he wants to have no lane.
Anything his friends can do, Stephen should be able to do too, right? So when they dare each other to sneak into an abandoned building, he doesn't think it's his lane, but he goes. Here's the thing, though- Can he do everything his friends can? Lately, he's not so sure. As a mixed kid, he feels like he's living in two worlds with different rules–and he's been noticing that strangers treat him differently than his white friends . . .
So what'll he do? Hold on tight as Stephen swerves in and out of lanes to find out which are his–and who should be with him.
Zenobia July by Lisa Bunker
Zenobia July is starting a new life. She used to live in Arizona with her father; now she's in Maine with her aunts. She used to spend most of her time behind a computer screen, improving her impressive coding and hacking skills; now she's coming out of her shell and discovering a community of friends at Monarch Middle School. People used to tell her she was a boy; now she's able to live openly as the girl she always knew she was.
When someone anonymously posts hateful memes on her school's website, Zenobia knows she's the one with the abilities to solve the mystery, all while wrestling with the challenges of a new school, a new family, and coming to grips with presenting her true gender for the first time. Timely and touching, Zenobia July is, at its heart, a story about finding home.