Happy Pride Month, everyone!
To celebrate Pride Month and all our LGBTQIA+ youth, Youth Services is spotlighting some of the books in our collection that are on the 2021 Rainbow Book List.
For those of you not familiar with the Rainbow Book List, according to the site linked above, "The Rainbow Book List, now in its 14th year, is an annual annotated bibliography consisting of quality LGBTQIA+ literature intended for readers from birth to age 18. This resource guide is meant to assist librarians, educators, parents, and others to ensure that everyone from babies and children to tweens and teens have access to selecting quality books with significant content regarding inclusion of Lesbian, Gay, Bisexual, Transgender, Queer/Questioning, Intersex, Asexual, and all that extends throughout the Rainbow spectrum."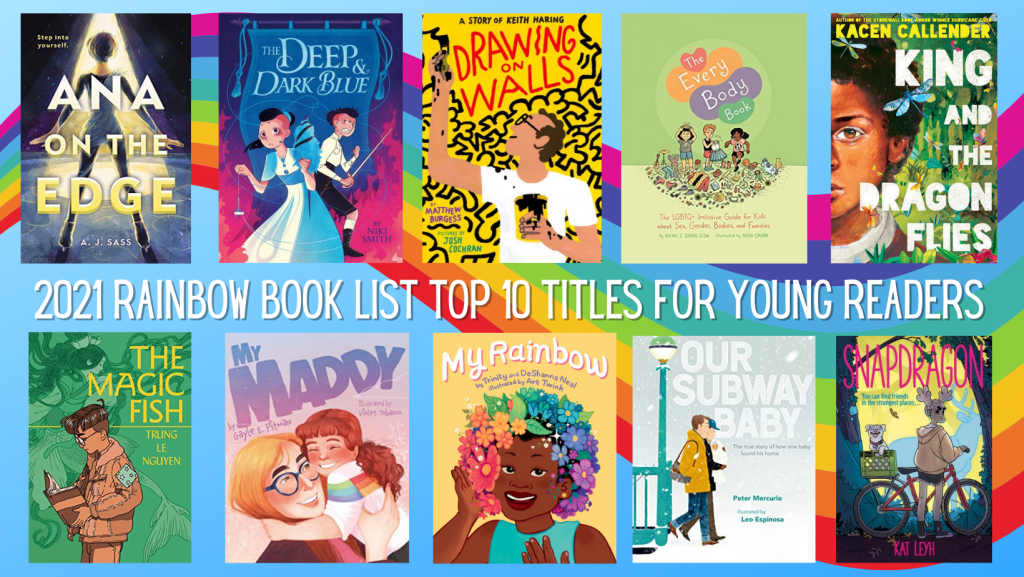 Of the top 10 books on the list, these are the titles we currently have on offer at FPPL:
The Magic Fish by Trung Le Nguyen (12+)
Real life isn't a fairytale. But Tiến still enjoys reading his favorite stories with his parents from the books he borrows from the local library. It's hard enough trying to communicate with your parents as a kid, but for Tiến, he doesn't even have the right words because his parents are struggling with their English. Is there a Vietnamese word for what he's going through? Is there a way to tell them he's gay?
The Deep & Dark Blue by Niki Smith
After a terrible political coup usurps their noble house, Hawke and Grayson flee to stay alive and assume new identities, Hanna and Grayce. Desperation and chance lead them to the Communion of Blue, an order of magical women who spin the threads of reality to their will. As the twins learn more about the Communion, and themselves, they begin to hatch a plan to avenge their family and retake their royal home. While Hawke wants to return to his old life, Grayce struggles to keep the threads of her new life from unraveling, and realizes she wants to stay in the one place that will allow her to finally live as a girl.
Drawing On Walls: A Story of Keith Haring by Matthew Burgess and Josh Cochran
Truly devoted to the idea of public art, Haring created murals wherever he went. From Matthew Burgess, the much-acclaimed author of Enormous Smallness, comes Drawing on Walls: A Story of Keith Haring. Often seen drawing in white chalk on the matte black paper of unused advertising space in the subway, Haring's iconic pop art and graffiti-like style transformed the New York City underground in the 1980s. A member of the LGBTQ community, Haring died tragically at the age of thirty-one from AIDS-related complications. Illustrated in paint by Josh Cochran, himself a specialist in bright, dense, conceptual drawings, this honest, celebratory book honors Haring's life and art, along with his very special connection with kids.
The every body book : the LGBTQ+ inclusive guide for kids about sex, gender, bodies, and families by Rachel E. Simon and Noah Grigni
This vibrant and beautifully illustrated book educates children about sex, gender, and relationships in a way that is inclusive of all sexual orientations and gender identities. Covering puberty, hormones, pregnancy, consent, sex, babies, relationships, and families, it uses gender-neutral language throughout and celebrates diversity in all its forms, including race, ethnicity, faith, bodies, gender, and sexuality. For use with children ages 8-12.
King and the Dragonflies by Kacen Callendar
In a small but turbulent Louisiana town, one boy's grief takes him beyond the bayous of his backyard, to learn that there is no right way to be yourself.
My Maddy by Gayle E. Pitman and Violet Tobacco
A child celebrates her Maddy, who is neither mommy nor daddy but a little bit of both, like so many things in nature. Includes note to parents.
My Rainbow by Trinity and DeShanna Neal and Art Twink
A dedicated mom puts love into action as she creates the perfect rainbow-colored wig for her transgender daughter, based on the real-life experience of mother-daughter advocate duo Trinity and DeShanna Neal.
Snapdragon by Kat Leyh
Snap's town had a witch. At least, that's how the rumor goes. But in reality, Jacks is just a crocks-wearing, internet-savvy old lady who sells roadkill skeletons online–after doing a little ritual to put their spirits to rest. It's creepy, sure, but Snap thinks it's kind of cool, too. They make a deal: Jacks will teach Snap how to take care of the baby opossums that Snap rescued, and Snap will help Jacks with her work. But as Snap starts to get to know Jacks, she realizes that Jacks may in fact have real magic–and a connection with Snap's family's past.
All these titles count toward our Curious By Nature Summer Reading Program (with prizes!) so if you pick up and love any of these books, make sure to send us pictures and let us know at ys@fppl.org . Happy reading, everyone!